It's been three years since I left work. Three years of wearing whatever I like, running to my own schedule, and being based at home.Blogging has however become my job of course, but it isn't quite the same as a guaranteed income, a workplace that you head off to each day, seeking solace in conversations about stuff other than kids, and what's going on 'out there'.
Whilst I've agonised about returning to my career in science, the logistics just don't quite fit yet – with one child in pre-school and one in school, the longing for something that works around the kids, pays more than the childcare and is basically worth it right now just doesn't quite fit. After all, blogging as a job ticks so many boxes it'd perhaps be crazy to go and get a job in a supermarket for the same financial gain. And we're managing okay, so it figures to stay as is for now.
But then there's Christmas.
That time of year the monthly outgoings go off the chart due to more social events than the rest of the year put together, and gifts to make the perfect Christmas for everyone – all our HUGE extended family. Of course we could have budgeted all year, shopped early blah blah blah but I just can't think about Chrimbo until after our youngests' birthday at Halloween. Whatever way you look at it, it's a stretch on the usual monthly numbers and also a time when spending rules as we know it go straight down the chimney.
Last year I joked about applying for a job at a local garden centre and their amazing Grotto (with IMO substandard elves), and actually went through the online application form. But the hours didn't sound great – every weekend before Christmas? Tricky when you have your own kids to share it with. And you needed certain certificates which I didn't have. And the deadline was imminent. It was partly an idea for financial reasons, and partly just for fun.
But all this chat and bants did open up an opportunity… it just goes to show it's all about who you know. A friend of a friend happens to run a local Santas grotto…and the dream is now a reality. This Christmas I'm going to basically be Jovie.
Based on its temporary nature, I've been able to secure some short term help from friends and family. It won't interfere with the kids school holidays, and it's not forever, even if it ends up not being for me.
All in all, I'm super excited about getting out of the house for a couple of days a week, knowing the girls will be in safe hands of people they love and they will embrace the novelty factor as much as I will. The big question is, should I wear my green boots? I don't actually think I have made it to Elf status, but perhaps if I impress them enough with my festive cheer there may be room for a promotion?
I've never worked in a public facing role before, and nervous thoughts of messing up or people being awful, is replaced by the happy thought of kids visiting Father Christmas – who could be in a bad mood at a Santas Grotto (?!).  I am after all being hired to wish people a merry Christmas, jingle all the way, and perhaps ask if they had considered the photo package including the snowglobe.
Perhaps this is the beginning of another chapter, one where I realise I love being out working again. Or perhaps it'll make me hate Christmas by the 25th. Will I miss it come January, or will I relish in the fact that I'm back at home, free of ties and being my own boss again.
It's certainly going to be a change up from the status quo and life as we know it may be somewhat squeezed into the remaining 5 days a week, but perhaps the breathing space will be a tonic. A Christmassy Gin and Tonic that is.
I just hope I don't let my temporary boss down, because I don't want to end up on the wrong list this year…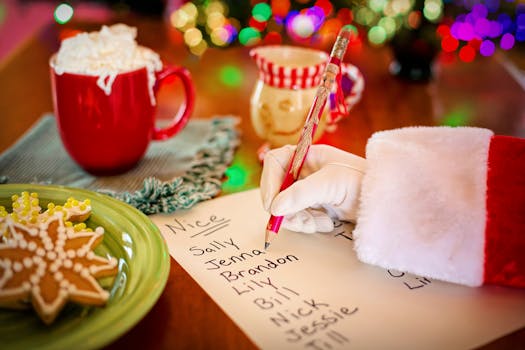 x MMT
(Visited 248 times, 1 visits today)