*collaborative post
This spring, I am making the daunting step back into the world of being a working Mum. It's something I'm both excited and terrified about for a whole spectrum of reasons, but the number one worry on mind is how on earth I'm going to stay on top of everything life throws at us as a family of four, with a smaller window of time and having to share my focus between home life and career.
I've already had a word with myself that I can totally do this; or more accurately WE can totally do this, because there are two adults in this team and we're definitely going to need to redistribute some of the life admin tasks around here. I've already had a word with Dad Muddling Through that we are going to have to meet in the middle somewhere; I'll drop my standards of domestic perfection in the quest for sanity and a happy household, but he's going to have to raise the bar on some of his blue jobs and be a little bit more proactive towards some of those jobs the fairies have been keeping at bay over the last few years.
I've also secured a part time working arrangement, so that whilst my kids needs are still fairly demanding, I can get some work life balance, squeeze in the food shopping, the odd run and maybe even a coffee morning too. But the thing I really needed for us was the mother of all lists. An always accessible, shareable, digital, to do list that does some of the thinking for me.
Having been introduced to Lifefyle by the passionate team behind it, I'm three weeks in and feeling well equipped to keep on top of the never ending to do list in my brain, and I can't wait to get my hands on the app coming soon. It's a place to store all the e-documents replacing the ones we used to hard file in a central location we can all access too. There are so many digital tools available out there, but Lifefyle is one that is definitely proving indispensable to us as a family; we are sold and it's a keeper.
x MMT
In this insightful piece, Rachel Smith, Head of Product at Lifefyle, explores the equally exciting and daunting prospect of returning to work, and how the Lifefyle platform can support you as you form new routines and habits.
If you're a Returner, about to go back to work after maternity leave or an extended career, chances are you will be feeling a lot of, well, feelings.
Hopefully a decent chunk of those feelings are positive, and a cause for excitement about:
the possibilities a new job or a fresh start in an existing job can offer
adult conversation
applying those skills that you developed, were proud of, and were known for, long before anyone called you "Mama"
wearing clothes that you wouldn't dream of rolling around on the floor in… …and heels
carrying a small(ish) handbag (or at least a handbag that's full of things that YOU need, not things to feed, entertain and wipe small people)
the chance to drink coffee while it's still hot
income
maybe even, the commute. Seriously. That part of the day which is inherently moaned about, particularly for journeys only possible at the whim of public transport, now presents itself as an opportunity for what (with your expectations now well and truly lowered) you now consider to be "me time"
Yep, returning to work is something to be proud of and excited about.
And at the same time, it can be so very daunting.
Not just because of settling your little ones into their new childcare / education arrangements, and the anxiousness, decisions and guilt that comes along with handing over the responsibility for the care of your progeny to somebody else.
And not just because of those (most definitely unfounded) doubts about your ability to do a 'proper' job anymore – those doubts that inevitably creep in when you're knee-deep in laundry, or cutting toast into triangles because today only triangles will do, or clapping along to whichever inane song accompanies the wafting of a "parachute"…
…It's daunting too because you're already reeeally busy. Right?
And you know that adding work into the mix will only add to the juggling act. It will only add to your already overloaded day, and mind. Right?
Actually, there is another way. This too could be an opportunity, and something to be excited about. Because change is good.
It's a team effort
Everyone in the family is impacted when the Mother Ship goes back to work. It doesn't happen in isolation to just you. Even if you are attempting to add work into the rich tapestry of family life with minimal impact on your partner, they will still feel it. So approach it as a team. It's an opportunity for them to have a fresh start too.
Just as you need to establish good disciplines & boundaries with work right from the start – like notifying people you have a hard-stop at the end of your working day when accepting invites for meetings that are scheduled to end at that time; like setting an alarm 5 minutes before you need to leave so whomever you're with is alerted to the fact they need to wrap things up without you worrying about interrupting them mid-flow; like adding your working days or hours to your email signature as an unapologetic fact… just as you instil these disciplines in your work life, with your work stakeholders, so too can you instil disciplines & new habits in your home life, with your household stakeholders!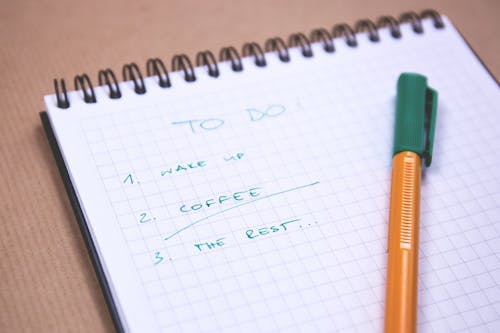 Chances are, you've muddled your way to a vague division of responsibility for life admin between you and your partner. Now is a good time to talk about it properly. Be clear about who is going to do what, and pick up the things that were just assumed to be your responsibility because you weren't going out to work. A lot, if not all, of those things still need to happen and stealing more hours from sleep & self-care shouldn't be the default answer.

Divide and conquer
Lifefyle can help you with this. Lifefyle is an online platform which captures, organises and remembers all of your household, financial and life admin. It includes a shareable online to-do list, pre-organised document store, upload & mobile scanning facility, and a document reader which highlights when something needs your attention.
By capturing your admin on Lifefyle, as and when it comes through the post or to your inbox, you instantly give yourself the ability to share-the-load with someone else. They can see that it's there, so they don't need to ask you about it, thus reducing the reliance on one family member as the 'knowledge keeper'. You can assign tasks between you so that one person doesn't become over-burdened. Best of all, you can forget stuff. You can stop worrying about forgetting to do something, safe in the knowledge that Lifefyle will remember it for you.
So go forth and relish that new chapter Working Mama. Lifefyle has got your back.
(Visited 512 times, 1 visits today)