Pancake Day is almost upon us, on the 28th February, so now is the time to make sure you stock up on the essentials needed for the perfect flipping pancake for you and your brood.
Growing up, pancake day always fell on the day I stayed with my Dad – a Tuesday (Shrove Tuesday, funny that), so it will always bring back memories of his house, and my brother and I taking turns to flip the batter mix as high as we could without a) sticking it to the ceiling or b) ending up in a big pile of sticky mess. It's amazing how much joy some eggs, flour and milk can bring to a small kiddo so this is an old school tradition I'm all for keeping alive.
It is after all based around the start of Lent – traditionally Shrove Tuesday was to use up larder stocks of eggs, flour and milk and having one last fat binge before the 40 day fasting of Lent in the Christian calendar. Nowadays Lent is a time Christians might not fast, but give up a luxury for the 40 day period, symbolic of Jesus' 40 days and nights fasting in the desert.
As a teenager, my BFF and I decided we loved pancakes far too much to reserve them for just one day a year, and we spent a whole afternoon making pancakes and keeping them warm in the oven for a big sit down crepe fest. Trouble is, we may as well have dunked them is Raita and Chicken Madras as the oven turned them into a pile of poppadoms. #epicfail.
Later in life, there was another pancake day which sticks in my mind…the pancake day 5 years ago, in which I was ten days overdue and struggled to reach the pan on the hob. Pancake day was a fun distraction to the endless 'is baby here yet' texts. It seems a lifetime ago now…
So five years into motherhood, and with two little sous chefs ready to some well supervised pancake tossing, here is my go to pancake recipe. Whether you're eating them for breakfast, lunch, dessert, or (as my Mum always says) pancakes are a perfectly suitable dinner, the golden rule is simplicity. I won't waffle on about chocolate, banana or peanut butter fillings because let's face it there is only one filling for the perfect pancake, and that is sugar and lemon.
We've given the recipe a trial run and can assure it's quality so no excuses for buying the ready mix…it's an egg, flour and milk! Come on, even the worst of chefs can manage that, right?
THE PERFECT PANCAKE BATTER RECIPE (Makes around 8 pancakes)
125g (4oz) plain flour
pinch of salt
1 egg
300ml (1/2 pint) milk
a little oil (for frying)
METHOD
Heat the minimum amount of oil in the pan and add enough batter to coat a thin layer of the pan.
Heat until the edges curl in and the underside starts to brown.
Turn over with a spatula to cook the other side.
Flip as required (not essential but highly reccommended!).
Scoff while warm with sugar and lemon.
A few tips…
Remove excess oil from your pan before adding your batter (have a little cup of oil, pour in then pour out).
Eat as you go – you don't want poppadoms remember!
The first one is always rubbish – practice makes perfect!
Use a ladle for consistent measuring.
Leave batter to stand for a while if you can, Mum swears it makes better pancakes…
Keep an eye on the heat of the pan – it'll get really hot after a few so turn down the heat or let it cool off.
Always remember…one for them, one for you 😉
Until 01 March Aldi has conveniently included lemons in it's Super Six deal, as well as some healthy toppings to ease the sugar and lemon guilt (blueberries, mini bananas, easy peelers, fun size pears and snack pack grapes all at 69p each). In addition, check out the pancake day special buys including a premium crepe pan (£9.99), 2 litre batter bowl (£7.99), Jumbo pancake turner (£2.99). They've also got in stock ready make pancakes if you really need them ;-).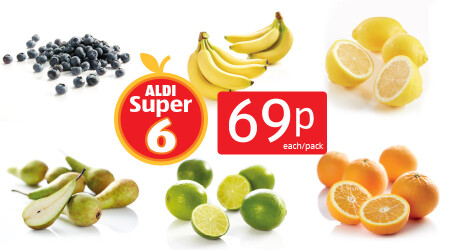 Ultimately, pancake day is all about quality time as a family making memories. I promise you, however tired you are or how bad your day, whipping up a batch of pancake as a family cannot fail but bring out the best in you all. So, the perfect pancake isn't all about how it is filled, as long as it is made with giggles and smiles, and jokes about who is the best tosser.
x MMT
(Visited 431 times, 1 visits today)