If you're new to 'Quotes from the G-unit', this is my 'kids say the funniest things' / 'we have to write this stuff down' regular feature. I don't want to forget these gems, and can't wait until we have double the material when dangermouse gets vocal.

MMT: "Nowhere to park today, Oh, here we go this'll have to do"
TG: "Is it a cheeky space mummy?"
---
TG: "My bum hurts"
MMT: "Oh no, whys that?"
TG: "I ate too much"
MMT: "Oh dear, have you got a tummy ache?"
TG: "No, I've got a bummy ache"
---
TG: "Mummy I need a cuddle"
MMT *stops staring at iphone* "Sorry – I'm a rubbish mummy looking at my phone aren't I?!" *GUILT*
TG: "No, you're an amazing mummy"
MMT: *melts*
---
TG [on an autumny woods walk]: "Look Mummy I've found a plonker"
MMT: "That's called a conker sweetie"
---
TG, embracing the Rugby World cup: "Mummy, if [babyG] climbs up the stairs you have to rugby tackle her".
---
TG: "Watch this Mummy" *performs a mediocre gymnastics type move onto the bed*
"I'm Super-cool"
MMT: "Thats a great word, where did you learn that?"
TG: "Nowhere. I just think of something then I say it"
---
MMT: "When you're a grown up we are going to do some brilliant stuff together…"
TG: "Like jobs?"
MMT: "No, not just jobs, we can do some really fun stuff"
TG: *thinks a while* "I know! We can sit in big car seats!"
---
TG, on installation of a DISCO ball in the playroom (that's right): "That's a Tesco ball"
---
TG: "Mummy, people fly to the moon in rockets, and they are called Ostronoughts"
---
MMT: "Father Christmas only comes to good little girls"
TG: *thinking pause* "But what about the little boys?
x MMT
This post is linked up to, as always, FTMOB with the lovely Louise from Little Hearts Big love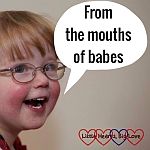 (Visited 131 times, 1 visits today)