There is something about the change of season which makes your soul sing and your ability to resist a bargain go down the drain.Jumpers, jeans, boots. Dresses with tights, mustard tones and a new pair of kicks…I didn't stand a chance on the weekly food shop really did I? The folk who introduced Mum clobber to the supermarket aisles really was onto a winner, and I have to say, this last month I've been unable to resist.
So, here are my fave picks of the Tesco & Sainsburys raid that may or may not have taken place in our household… Bags hidden, new gear definitely out and proud on display…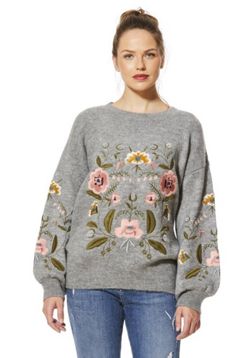 Tesco F&F Bishop Sleeve Embroidered Jumper (£30). It always makes me laugh how a supermarket buy over £20 seems ooh a bit pricey…but this, I just had to have it. I'd pay twice this in a high street store and I just cannot wait until that late afternoon sunshine gives way to a bit of frost and it's finally cold enough to snuggle up in it.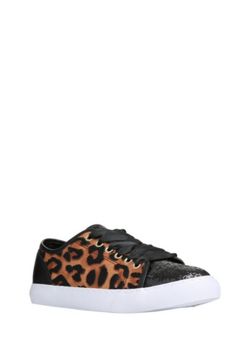 F&F Leopard print Glitter toe cap plimsolls (£14 down to £7). In contrast to the spend up on the jumper, these shoes are an instamum dream. Animal print. Glitter. Bargain. I may only have a few more weeks of these babies until the boots take primary position at the top of the shoe mountain by the door, but at the price of a Tea and cake at the garden centre, who cares.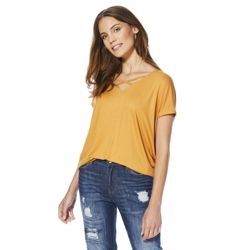 F&F cross strap V neck top, mustard. (£8.00). I don't know if it was the shoes, or the easy wearing style, but I was literally on a HUNT for something mustard colour to accidentally jump in my trolley. Taking my wardrobe palette straight into this season at a bargain £8, what Mum doesn't love a boyfriend fit Tee.
Tu at Sainsburys Navy Denim Pinafore Dress (£22 down to £16.50). I so badly want a pair of decent dungarees..but with a bit of hesitation over whether I can actually pull that look off, here is a perfect middle grounder. The dungaree dress…currently being teamed with a bardot breton but I'll be wearing this right through the winter with warmer layers, tights and boots. I love a denim dress but the tightness round the arms can be a real Mumprob, so this design is practical as well as current. Love.
Tu at Sainsburys Dark red texture dress and tights (£12 down to £9). So, we had a family event…and in all honesty I hadn't tackled the wardrobe change over (involving loft, laundry and death by hangers) so I cheated and went for something new. Having a small for her age almost three year old means we still have the ability to raid the baby section top end. I love an autumnal tunic with cream textured tights. This was worn with a fur gilet and chelsea boots – nothing says autumn more, so cute.
Tu at Sainsburys. Multicoloured dress and leggings set. (£13 down to £9.75). When it comes to our five year old, she has (thankfully) seemed to have emerged from the 'pink and fluffy clothes ONLY' stage and I'm loving the chance to buy her some cool clothes. Shooting up, it's a good excuse to pick up some new bits and with a pair of black leggings thrown in, this outfit will get worn to death – parties, playdates, christenings. Cool yet pretty, smart yet comfy. It was a major hit with her (especially the butterflies).
Tu at Sainsburys Fur lined Navy embroidered HIgh Tops. I'm not exaggerating when I say I went into Sainsburys three times to try and get my hands on those black leopard print boots in her size (and mine) but eventually admitted defeat and succumbed to the blue florals. Probably more 'her' than the leopard ones I was dreaming of…perfect for every occasion and drawing in all the compliments (mainly from Mums asking if they do them in their size).
Tu at Sainsburys Woodland Print Nightshirt (£14 down to £10.50). No autumn round up would be complete without New PJs would it? Or is that just me? Autumn was made for nights by the log fire, watching X Factor and Strictly. New PJs = essential, right?
x MMT
(Visited 361 times, 1 visits today)