I'd seen this product being shamelessly plugged by a load of Z-list celebs on my insta-feed, claiming they felt amazing, had lost weight etc etc by drinking this tea?
As a massive tea drinker, this seemed to be an amazing product : it was luring me in and I probed around to find a little more.

I looked up the website and figured this wouldn't be a fad diet to try whilst preggers or BF so I popped it in the cupboard under the stairs of my mind. Until 3 weeks ago. 🙂
Having a mooch around the shops I spotted the window display of Holland and Barrett who now stock the product; and it's in a buy one buy one half price deal. At £22 for 14 days I figured I'd grab the bargain and stock up on 2 packs. The assistant advised me it can be taken for a maximum of 28 days at any one time.
I didn't hang around to get started, and I brewed my first tea as soon as I got home.
My pre-teatox weight was on the dot of 9.5 stone
The way it works is that you have one 'daytime' tea every morning, and one 'bedtime' tea every other night. The evening brew has a mild laxative effect, which is definitely something to bear in mind if you have plans the day after! (I found the first day or two a little tough on my tummy, but my body got used to it really quickly and that subsided by day 3). Also, note, the laxative effect can render oral birth controls useless, so unless you want a surprise free gift, be careful!
I had the tea religiously per the instructions. I liked the taste of it, but then I do like a herbal tea, green tea, peppermint tea. The ingredients contain things like Oolong tea, Senna, and aren't just a green tea as I had previously believed. If you can't stand herbal teas you may struggle with the flavours!
As day 14 arrived I was really excited to do a weigh in. I hadn't checked on my weight during the detox.
I should also add, that during the 14 day period I didn't do any additional exercise or diet, I ate normally for me. That includes cereal breakfasts, light lunches, a normal meat, carb and 2 veg type dinner, and the odd treat (takeaway, bacon roll etc).
The result?
Day 14 weigh in….9.5 stone exactly.
So, I'm not tripping over myself to start the second pack! Maybe next time I need to focus on other areas to accelerate the weight loss (or just try that on its own first?!)
I can't tell you if I am 'detoxed', If I was I undid that good work on Saturday night :-/ Did I feel slimmer? Maybe? But we all have fat days and thin days don't we?
I guess in life nothing comes for free…stable weight loss, or even a healthy toned mum tum, which is my actual goal, is going to take more than a £22 box of tea leaves. Like actually getting off my tired bum and go and do some exercise. Blogging or jogging?
Nice try lazy bones.
Have you tried BOOTEA? How did you get on? Any tips for me before I crack open box #2?!
X MMT
This post is an honest review by an actual customer, not a sponsored post. If it was, they'd want their payment back I suspect! X MMT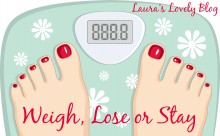 (Visited 2,047 times, 1 visits today)