*contributed collaborative post
If you lead a hectic schedule and you can't find the time for a vacation away, there are various things that you can do to transform your home, giving your abode that relaxing resort feel. If you've got some time off, and want total relaxation, here are a few tips that can help you can turn your home into a perfect staycation resort.
Hang a Hammock
Many of us love nothing more than an afternoon snooze. If you've taken some leave from work, hanging a backyard hammock can allow you to drift off in the fresh outdoors, letting you rock at your own leisure. You can also catch up on all your favorite magazines or get stuck into your summer reading list. To avoid any problems, make sure that you hang your hammock on two healthy and sturdy trees, and allow enough distance apart too. Your staycation should be a time where you can switch your phone off and enjoy the peace and quiet, so what better way to do it than swinging in a cozy hammock?
Transforming Your Bedroom
One of the great things about a staycation is that you don't need to set an alarm! Instead of having to wake up at the crack of dawn to head to work, allowing yourself a lie in can help ensure you wake up feeling rejuvenated and well-rested, therefore, transforming your bedroom can make sure you get some much-needed rest. Whether it be repainting your walls in a soothing color, or purchasing a new mattress, you can't really put a price on comfort and relaxation. Once your bedroom is cozy and complete, we wouldn't blame you if you spent all your time off in bed!
Sort Out Your Outdoor Furniture
If your staycation is in the summer months, it's only natural that you will want to head outdoors and soak up the sun. If your current outdoor furniture looks like it's seen better days, it's time for a change. Instead of ditching your furniture, a bit of touching up can make all the difference. Restoring your garden furniture can not only give it a new lease of life, but save you money too.
Install a Ceiling Fan
To really get the tropical resort feel, installing a ceiling fan is crucial. Having a cool and constant breeze is not only comforting, but relaxing too, helping to transform a hot and stuffy room into a blissful midsummer night's dream. What's more, a ceiling fan can cut your energy costs down too, especially if the weather isn't quite hot enough to turn the air con on. Once you've found a design and style that's right for you, the installation process is fairly straightforward.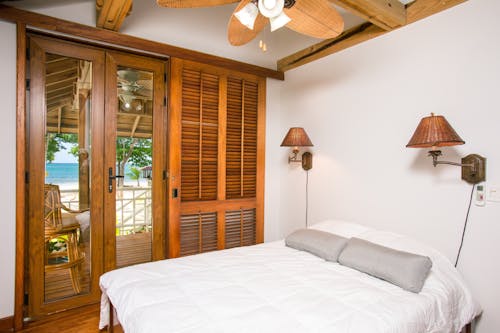 Decorate Your Porch
Before you even set foot through your front door, you will want to feel like your vacation is in full swing. Once you've cleaned and primed your porch, the next step to take is decorating. Customizing your porch to match your favorite style can make a huge difference. Whether you're going for an exotic, tropical, or traditional look, the possibilities are endless. There are all sorts of quirky furniture that you can put in your porch, such as bamboo chairs. You may also want to consider purchasing a wired doorbell for your porch where you can find a range of choices to make your home stand out, such as retro brushed steel, or sleek wood. If you're interested, you can order a wired doorbell button here.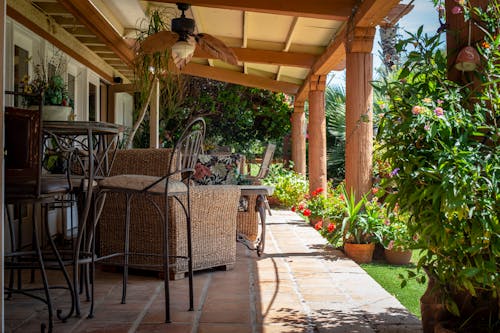 Your home should be the one place on earth where you feel the most relaxed. If you've got some time off from work, the last thing you want is to spend it in a house you don't feel comfortable in, therefore, taking all the tips listed onboard and transforming your home into a relaxing sanctuary may be all it takes to give you a staycation that's quiet, peaceful, and enjoyable.
(Visited 32 times, 1 visits today)