*contributed collaborative post
We LOVE to a stay in a good hotel. However, we are not always entirely sure of how to make the most out of it. The thing is that when it comes to staying at a hotel you can leave your cares (and laundry bin) at home and embrace the life of luxury for a night or two…
Get a Map from the Reception
I know you have got Google Maps on your phone, but it is super cool to have a physical map of the places you travel to. Mark the places you want to visit. Also, it is a good idea to book your hotel that is nearer to the major sites you will be visiting during your stay. For example, if you are visiting Disney Land with your family on a spring break, you should look for hotels near it. Do not forget to visit the hotel website to make sure it is what you want. 

Do Not Miss Out on Complimentary Breakfast
Almost all the hotels that are three stars and over offer you a complimentary breakfast. If not, a complimentary lunch. So, make sure you wake up in time for that. Though a few times, they offer you coffee and a box with breakfast essentials but most of the time, you have many options to choose from the menu. You can have pancakes, cookies, muffins, fruits, juices, coffee or tea, and sometimes some beer too. You cannot be missing out on that so go easy on the minibar! 
Watch Netflix on a Bigger Screen
Your hotel room has a big television screen, however, you may have to pay to watch it. Just attach your laptop to the screen through the HDTV cable and watch your favourite series on Netflix on a bigger screen without the charge. Enjoy the hotel luxuries without paying for them because that is how you make the most out of it.  

Use the Conditioner Well
Did you forget your shaving cream? No problem. Free toiletries always have a cute little bottle of conditioner that you can use as your shaving cream. It works wonders! Also, if you need more of the bathroom supplies, you can always ask for them at the reception or call the room service for it.

How to Not Wait for the Mirror to De-Mist?
One great problem at the hotels is that you want to spend hours in the bathtub, but later, you have to wait for another hour to shave or makeup because the mirror absorbs all the mist. Do not worry about that anymore. All you have to do is take a bar of soap from the bathroom amenities and rub it on some portion of the mirror. Then, take a dry cloth and wipe that soap up. This will stop the fog from condensing over the mirror, and you will be able to see yourself clearly after an hour-long hot bath. One rub of soap on the mirror lasts at least two days, so you do not have to worry about rubbing off the mirror each time you want to take a bath.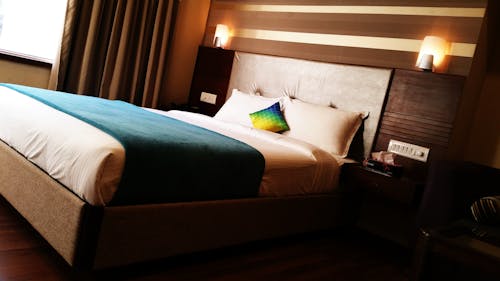 Use the 'Do Not Disturb' Sign
There is a 'Do Not Disturb' usually in the inner doorknob of your room. It is available in almost every hotel these days. Don't be afraid to use it! When you are sleeping or just chilling out in your room, put the sign on your door. This way, room services do not knock your door. Also, if you can put that sign while going out of the room in case you are worried about security.

Stealing is Not Always Unethical
Hotel rooms are rich with the cute and cool stuff that you would just want to put in your bag. They have cute little face towels, wipes, face wash, body wash, body lotion, toothbrush, toothpaste, among other toiletries. Also, the little fridge is filled with soft drinks and juices (check if they are complimentary or pricey!). They also have coffee and tea. There are little notepads on the desk. You can take a lot of that stuff, and the hotel staff and managers would be happy. They want you to steal because they want you to remember them even after you check out. This is so because they want you to come back and book the hotel room again.  Note this doesn't include the robes…

Keep Your Devices Charged
It is okay to forget or not pack the chargers at all if you are going to stay in the hotel. Your hotel room has data cables which can charge all your devices. However, if you do not find it in your hotel room, you can always ask for the chargers at the reception. They are always happy to help you without costing you anything. 

Ask for the Extras
Do not be too careful when using toiletries or coffee or juices. All the free stuff that comes with the room booking is mostly free in ample amount. If you want more of something, just give a call to room service or ask at reception. Also, ask for any more extras you can get, and I can bet there would be a couple of things like a gym or swimming pool that you can enjoy for free. Is not that wonderful? All you have to do is not to shy away.
Don't forget that you have the right to complain about any bad experience at the hotel. It can be as little as a dirty bed sheet or as big as theft or harassment. You can make the most out of literally any hotel if you know how to choose your hotel smartly and how to get the best room service for yourself. So, next time you book a hotel, just focus on having all the fun that you can get from it because you have paid for luxury and you should expect nothing less.
(Visited 21 times, 1 visits today)