*contributed collaborative content
We all have our bucket lists. We all have destinations around the world that we'd love to visit, sights we want to see, and experiences we want to try while we can. Yet, as comprehensive as these lists may be, there's one thing that we can never experience again… our childhood.
Don't get me wrong. There are things you can do to help you get back in touch with your inner child. We'll visit some of those in this article. Nonetheless, there are some things which are way better experienced through young eyes. While not all parents have unlimited budgets, if we can, we owe it to our kids to create unique, memorable and formative experiences which will shape who they become in their later years.

With this in mind, check out this list of trips that all kids should experience at least once. Just be sure to take your inner child along for the ride!

Disneyland

What kid doesn't love Disney? What child wouldn't want to go to Disneyland? It's the happiest place on Earth. Not only is it a heavenly place for youngsters, it has an uncanny way of making the years just fall off grownups as well. Many presume that Disneyland is prohibitively expensive for parents on a budget, but when you know where to look there are bargains to be found. Take a look at Sam's Club Disneyland Tickets 2019. You'll find some great bargains including a free day in the parks.

Seeing animals in their natural habitat

Zoos are a great way for kids to get a real-life look at exotic animals from all over the world. What's more, modern zoos do a great deal to aid in animal conservation all over the planet. However, there's absolutely no substitute for seeing animals in their natural habitat behaving as nature intended.

The great thing about this is that you don't have to take your kids on Safari in Kenya for a memorable animal experience. Just take them to any National Trust heritage site and bring your binoculars. You'll find a wealth of opportunities for spotting your furred and feathered neighbours at play.

Go camping… pretty much anywhere

Let's face it, we're a pretty pampered bunch in the developed world. Our kids enjoy a wealth of creature comforts that our parents could scarcely have dreamed of when they were children. While this can be beneficial for youngsters, it's important for them to get a tech detox every once in a while and get back to basics.
Camping is a great way to get kids to commune with the great outdoors and experience the benefits of spending time in the natural world.

Visit an ancient ruin

Whether it's a medieval folly, a Roman road or an Egyptian pyramid, visiting old ruins can be an awe-inspiring trip that gives kids a tactile understanding of history. They can see how civilisations of yesteryear lived without the modern trappings we take for granted while also finding out about the surprising ingenuity of past peoples.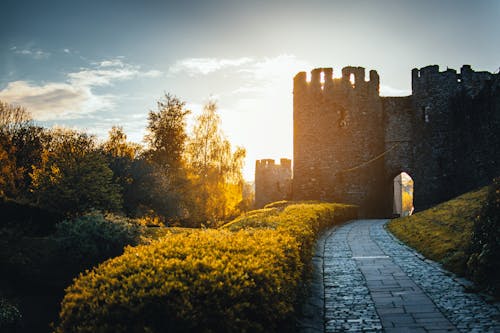 No matter where you live or what your budget, there's a wealth of opportunity to create wonderful, memorable, awe-inspiring and educational trips for your children.
(Visited 44 times, 1 visits today)