We've all said it; "We should write this stuff down!". Here is as good a place as any! Our three year old (TG to you) has certainly come up with some crackers lately, enjoy 😉
---
---
Mr G: " I think [baby G] is peeling.
"MMT: "That's mashed potato"
---
TG: "Mummy why are your clothes all covered in disgusting?"
MMT: *Changes banana / snot covered T shirt. Sighs. *
---
TG: "Mummy, why is your hair turning white?"
---
MMT: "I wish I could be back at school again."
TGs little pal on his 1st day at school: "You can't, you're a grown up. Are you 100?"
MMT: "I feel it."
---
Mr G: "We could go and get fish and chips? Or a kebab when the kids are in bed?"….
TG: "NO! We haven't got any money! REMEMBER?!"
Us: *Rolls around on floor laughing*
---
MMT: "Just think, one day we'll go to bed, and wake up in the morning."
---
MMT: "Do you know what Father means?"
TG: "CHRISTMAS!"
---
TG: "I don't want my hot cross bun any more, I'm too old."
---
MMT: "My head is a bit a hurty"
TG: "My head is a bit happy!"
---
TG: "Do Aliens blow off?"
---
TG: "Why do you love me so much?"
 MMT: "Why do you think?"
TG: "Because you love me every day."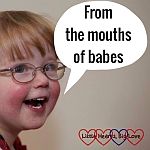 (Visited 118 times, 1 visits today)