There was a time when the thought of having one car between Dad Muddling Through and I just would have sent me running driving for the hills. In the days when we both worked, and lived a pretty active social life that covered a 50 mile distance across Kent.
However, at some point in time, whilst we were both still working, we made the decision to join forces and share a car.
I think the decision was made easier by a set of circumstances…we bought a house close to the station (no accident) which meant that Dad Muddling Through no longer needed to drive and park every day before training it up to London. Our two separate cars were both on their way out; my beloved VW Beetle (God rest her soul) who had a penchant for breaking down and had a perma-engine warning light situ and his less than manly pale blue fiesta inherited from his Mum, which was struggling to cut it as a family car once Tigs and her travel system arrived.
And so, we all agreed, that by losing both of these two cars, we could join forces and invest together in one vehicle more fit for purpose with our ever growing family. One sad visit to we buy any car later and we had waved goodbye to Bluebell the VW and part-exchanged the Fiesta, we were the proud owners of a family cliche is there ever was one – the NIssan Quashqai.
Now this isn't a post about our Qashquai – (that's been done before), it's a reflection on how far we have come, and how much I have changed in my approach or having one family car.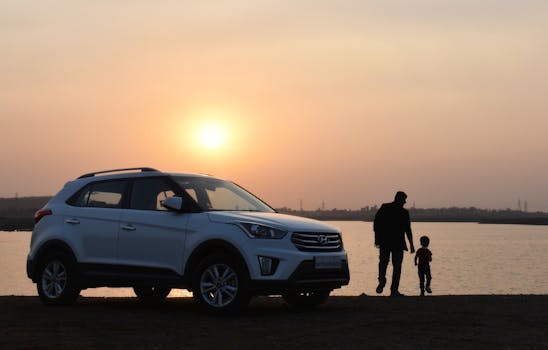 It's worked
Now obviously, no two families are the same; we each have a unique set of circumstances. But, I can honestly say in six years of reducing to one car, it has never stopped us from doing anything. No one has ever missed out on anything, no one has had to excessively use taxi's or public transport (more than we would have anyway). Where there is a will, there is a way, and with a bit of planing and foresight, we have managed to live life to the full, well certainly to the equivalent level of full that having an extra car may bring!
Yes sometimes there has been a bit of jiggery pokery with drop offs and pick ups, a bit of walking and begging the odd lift, but I don't see that as a bad thing at all. No we don't live in a remote village, and we don't live in a big city either, I guess we represent the suburbian town folk of the UK. We can pretty much cope okay without a car if necessary – there's a tesco express on every corner, a bus route that is direct to Bluewater via the station, and we have a pretty good support network in case of an emergency.
In fact, I have been totally anti any suggestion of getting a second 'runaround' unless we ever absolutely HAD to.
It makes financial sense
Running a car is a huge financial tie. The car itself, the petrol, oil, insurance, service, MOT, Tax… A recent survey stated the average running cost to be £162 per month – not including any payments for the car itself. And that doesn't include the random months where you had to fork out for a whole set of new tyres (whoops) or our recent MOT failure joy – complete new suspension. Ouch.
By combining forces we were able to get a better car, that we can use as a family. After all, most of our lives do revolve around each other – dropping kids to clubs and parties, and visiting friends and relatives together. We pretty much come as a set these days.
In fact the thought of having to finance a second car just 'in case' or for the 'nice to have' doesn't make much financial savvy at all right now. Nope, that's more cash in the pot for holidays, clothes, and to invest in renovating the house.
It's more environmentally friendly
It's not rocket science that cars contribute to pollution; fuel burning emits carbon monoxide and hydrocarbons which not only damage the ozone layer, but also cause cancers, trigger asthma attacks and even cause birth defects. Whilst we can all do our bit by walking more, car sharing and using public transport, forcing the situation by making a bold move like reducing your household vehicles is a huge step in reducing unnecessary car use.
It sets a good example to the kids too, who hopefully will grow up seeing having a car each isn't a god given right, and may perhaps encourage them to use their initiative when it comes to getting from A to B. This taxi of Mum and Dad is a one car fleet.
We don't need two cars
Ultimately, for us, when you strip back all the noise and chaos of family life, we don't really need a second car. With one of us commuting via public transport, and one at home, it's a non essential luxury that we can live without.
I don't always give credit to Dad Muddling Through for getting it right, but when I had my reservations six years ago, he proved me wrong! I accept that our future situation may change logistically, financially, and perhaps this won't always be the case, but for now, I wouldn't have it any other way.
What do you think, could your family live with one car? Or even no car at all?
x MMT
(Visited 121 times, 1 visits today)