*sponsored
I know we haven't had Halloween yet blah blah blah, but who can't deny they have made a few teeny tiny plans for Christmas already… ME!
I love Christmas. Every single thing about it. The run up, the wrapping up, the smells, the food and even the shopping. Finding the perfect present for the people I love has become part of my very festive being, passed on from my Mum who never fails to come up with the goods at Christmas time, and always has done. Not based on cost or value, but on pure thought, creativity and having an eye and a heart for matching the gift to the person.
That said, it's getting harder every year to come up with novel gifts for our girls and the many, many kids in our life who seem to already have it all.
A helping hand from Smyths Toys Superstore was provided today when they unveiled their top ten Christmas toys for 2019.
Filled with all the gadgets and gimmicks which are going to be the talk of the class come January, and the envy of every parent who left it way too late on the 23rd December, this is your chance to get in quick whilst stocks last and be that Mum who won at Christmas this year.
It comes as no surprise to me that the girls had already spotted some of these toys and circled them in biro on the Smyths Toys Superstore catalogue which is about as traditional as leaving out a carrot for rudolph. As is not getting at least 98% of the toys they circled lol.
So here they are in all their glory…
FurReal Cubby the Curious Bear
PAW Patrol Super PAWs Mighty Jet Command Centre
LEGO Harry Potter The Knight Bus
Boppi the Booty Shakin' Llama
L.O.L Surprise! 2-in-1 Glamper Playset
Ryan's World Giant Mystery Egg – Gold
Barbie Travel DreamPlane
Nerf Fortnite AR-E
Push n Talk Forky
Frozen 2 Arendelle Castle
All of these amazing toys feature in the newly released Smyths Toys Superstore catalogue and are available in all of their stores nationwide. Pick up your FREE copy of their catalogue in-store and browse their full range of products with over 300 pages of inspiration.
Smyths Toys Superstores now trade from over 123 stores across the UK and Ireland. You can find your nearest store here which will be packed floor to ceiling with not just these top ten toys but all the top brands and most competitive prices on the best possible selection of products including toys, baby, outdoor and software games.
FurReal Cubby the Curious Bear – Catalgoue#: 177849 Click Here
We already have a couple of Fur Real pets in our muddling through family and they never fail to mesmerise kids and parents alike. This years offering reminds me of Teddy Ruxpin off of 1986 but I bet he is set to blow his Grandpa bear out of the water…
PAW Patrol Super PAWs Mighty Jet Command Centre – Catalgoue#: 175179 Click Here
Our Paw Patrol Days are fading away behind us now, but I know a few characters who would literally spontaneously combust if they found this under their Christmas tree. Chase is on the case!
LEGO 75957 Harry Potter The Knight Bus- Catalgoue#: 176253 Click Here
Having made it our mission to watch the entire Harry Potter back catalogue as a family this Autumn, this one just made me squeal out loud. Lego is one of those toys you would encourage your kids to play with all day long so this Harry meets Lego combo is going to be a definite for one of our two this year.
Pets Alive Boppi the Booty Shakin' Llama – Catalgoue#: 172598 Click Here
This has the mouse written all over it. Singing, dancing, bum wiggling, llamma-ing. What's not to love?!
L.O.L Surprise! 2-in-1 Glamper Playset – Catalgoue#: 172804 Click Here
L.O.L dolls. I'm not entirely sure I get it, but as a Mum I'm not supposed to. What I do know is that my seven year old and all of her friends are OBSESSED with these big eyed figures. So if you're stuck for a seven year old? LOL all the way…
Ryan's World Giant Mystery Egg – Gold – Catalgoue#: 177391 Click Here
Hands up if your kids ever watch obnoxious children opening slime filled with plastic on you tube. Nope mine neither. Honest. They would definitely not love this slime filled, surprise toy egg by the You Tube famous Ryan. Not at all.
Barbie Travel DreamPlane Catalgoue#: 176972 Click Here
Now here is a toy I can relate to! Good old Barbie still rocking it like this Mum thirty years later. Dreamplane Barbie is the kind of toy my girls would play with in their own little make believe world over and over again. Take it in the bath, fill it with Barbies, cover it in stickers. That there is a classic Christmas present.
NERF Fortnite AR-E – Catalgoue#: 176576 Click Here
I don't know much about Fortnite and I don't really like toy Guns. What I do know is that the only boy in our family would love this. Dad Muddling Through I'm talking about you.
Push 'N Talk Forky 22cm Action Figure Toy Story 4 – Catalgoue#: 169545 Click Here
FORKY!
That's all.
Oh go on then, let me just say that this may just be the final piece of our Toy Story collection that the girls just have to have. Okay. It's for me. But if you've seen Toy Story 4, you will just know why this little fella is so cute. If you leave it too late, don't worry, you can always make him.
Frozen 2 Arendelle Castle – Catalgoue#: 177861 Click Here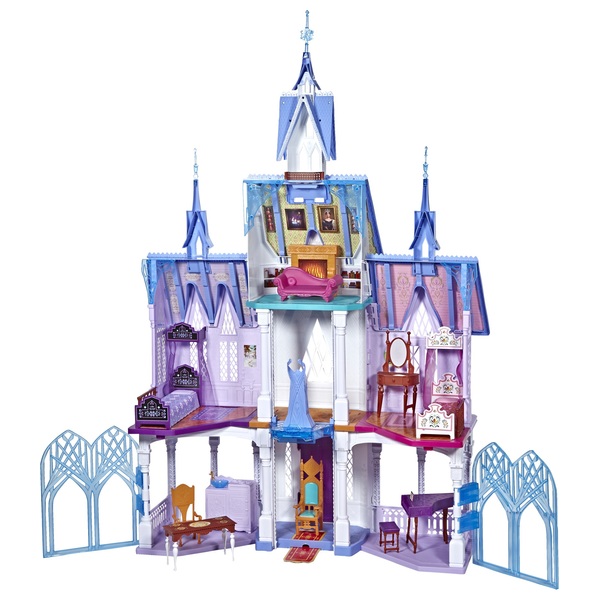 5 foot of Disney Merchandise for the film of the year about to explode into our lives. Will it be as good as the original? Will Elsa ever let it go? Will we be sick of the songs by Christmas? I don't know. What I do know is that this castle is five year old Christmas Goals.
So thank you to Smyths toys superstore for basically just sorting out my Christmas shopping list with zero effort from me.
Just don't leave it too late!
*****SMYTHS TOYS SUPERSTORE £50 GIVEAWAY*****
If you would like a little Christmas shopping starter from Smyths Toys Superstores, just enter via the rafflecopter below to be in with a chance of winning a £50 voucher.
Good Luck!
x MMT
(Visited 374 times, 1 visits today)