Long before the days of digital photography, Instagram and the all important selfies, I have always had a bit of a love affair with photography.
I'm not talking award winning creativity here. I do own a DSLR…if only I knew how to use it. I just love the ability to capture a moment in time, preserving a memory forever, and clutter up a cupboard with the evidence; to be stumbled upon many, many years later. I truly worry that my own childhood memories of rummaging through dusty old albums with my Mum, asking her to tell me all about the images we found, might just be a thing of the past in more ways than one.
As the new era of digital images arrived, my paper photos morphed into files within folders within hard drives. Backed up onto external hard drives (which, I discover, are not unbreakable), and more recently – floating happily on a cloud. Whatever the hell that means.
Becoming a parent made the images I captured so much more precious – no longer hazy reminders of what the hell happened on a boozy night out, but magical memories of our daughters childhood. Preserving it for all eternity, as it flashes before our eyes.
So where are the pictures now?
For our first daughter I was pretty darn militant in my determination to organise them. Prints every three months, filed beautifully into albums – labels and all. Poor Dangermouse's arrival and first year left us somewhat more 'preoccupied' and I'm yet to sort the thousands of albums into a album.
So as a lover of those images, and wanting to preserve them for my children, would could be a better way than this simple, and beautiful idea from 'Memories of Growing Up': A USB drive to store your childrens images, capture every moment in a digital timecapsule. I had seen these on www.memoriesofgrowingup.com and lusted after them already, so when asked to review them I hardly had to think too hard. The site has some stunning pieces of jewellery, fabulous gift ideas (we are already proud owners of a fairy tall tape), and these USB drives are no exception.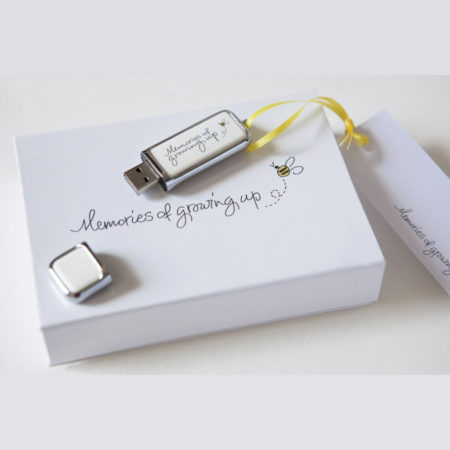 The idea is so simple – the memory stick is pre-loaded with files for you to organise images…birthdays, first day at school, sporting events…they have thought of everything. All you need to do is drag your digital images to the removable storage…and keep going for 18 years.
The product itself isn't just a USB stick. If like me, you are a sucker for beautiful packaging, you will adore the white leather case, the bumble bee logo and the clean, simple box which will keep your USB drive safe for the next 18 years. Ready for the day you hand it over…just imagine that.
The device holds 16GB of data – so that's literally thousands of images. (It is also available as a 32GB). Which, if you are anything like me means picking out one or two pics from each special childhood event. I just can't wait to get cracking with filling the girls USB drives up.
The 16GB drive costs £21.99 (32GB is £28.99) so this is an extra special gift which is still affordable.I'm definitely going to be making a mental note of the product for a christening gift, or new baby. This would be so much more special than a money box or hardback book.
After all, what better way to use a Memory stick.
x MMT
I was kindly sent a USB drive for each of my daughters in return for this honest review. All opinions are 100% my own..I truly adore this product!
(Visited 221 times, 1 visits today)