*Contributed collaborative post
Christmas is nearly upon us, and if you're anything like me you probably cannot wait for the festive season! This is also party season, and in truth there's no better time of the year to schedule an informal gathering of fellow moms, host loved ones or even entertain your kids' best friends.
If you're looking to really go bold and host the ultimate Christmas party where everyone's invited, then there are a number of must-have items that can really make your shindig pop. Here's a few to keep in mind
The Ultimate Party Outfit
 Let start with the basics; as you can't very well host a successful party without wearing a killer outfit.
This includes everything from the clothes that you wear to each individual accessory, as you look to create a stylish and matching outfit that sparkles like the season.
I'd definitely recommend a pair of striking gold earrings, which can make a bold visual statement and bring even staid outfits to life. F. Hinds have a particularly wide range of stylish and affordable earrings, so this should be your next port of call if you want to treat yourself.
Of course, not everything that shines is golden, so you can experiment with different metals and fabrics when creating your outfit. While you're at it, why not bond with your daughter by developing matching outfits for the occasion, or perhaps creating certain elements or garments from scratch together if you have the time.
Creative Homemade Decorations
 Let's face facts; preparing for a Christmas party is no fun at all unless you get to spend time bonding with your kids.
After all, they can bring even the most tedious tasks to life with their imagination and invention, so involving them in the planning process can make everyone's life a little more enjoyable.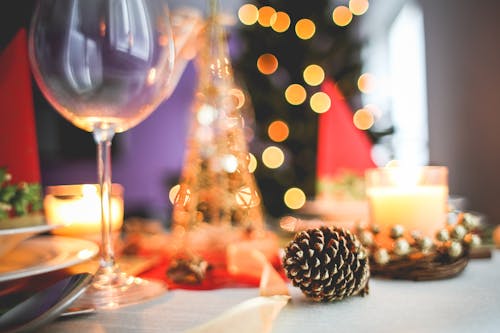 I'd definitely recommend creating some handmade accessories for your party, especially if you encourage your kids to push the bounds of their creativity to their limit.
To make your decorations pop, it's also worth buying in the right materials, with sequins, confetti and velvet all capable of introducing colour, sparkle and texture into any space!
Fun Games and Activities
 While it can be fun to plan a huge party for people of all ages, ensuring that it can hold the attention of both kids and adults can be challenging.
The key is to include several fun games and activities that allow parents and their children to take part in teams, as this keeps everyone interested and makes the party go with a real swing.
A festive treasure hunt is a particularly good idea, as your fellow moms and dads can lead their kids on the search for Christmas treats and small toys.
If you have good weather and want to spend a little time outdoors, it may also be fun to play Bubble Wrap Races. Here, both kids and adults run across a five-foot piece of bubble wrap, with the aim of the game being to avoid popping any of the bubbles!
This will have everyone in hysterics, while it's probably fair to say that the kids have a distinct advantage over the adults in this game!
(Visited 24 times, 1 visits today)