*contributed collaborative post
It's been a while since we moved home. Eight years to be precise. But we are constantly reminded by friends and family all around us that yes, moving home can be stressful.

You will have boxes to pack, people to say goodbye to, mortgage providers and real-estate agents to deal with, and lots of other tasks that will eat up your valuable time.

There might actually come a point when you sit down and ask yourself…

"Is it all really worth it?"

Well, of course it's worth it, despite the disruption in your life. If you have chosen the right home for your family to move into, you won't regret the stress you have gone through when you're finally settled.

But here's the thing. Moving home will be stressful, but you don't have to be overly-stressed. By focussing on the following, you might get through the process with your sanity intact.
#1: Remember why you are moving

Whenever stress threatens to overwhelm you, think about the positives that will come from the move. You might have more space to play with. You might be nearer to your workplace. And you might finally have the opportunity to say goodbye to those neighbours that you have never really got on with. So, take time out to think on such things (and any other positives that are relevant to you), and think of the new beginning that is about to be afforded to you. With a positive mindset, that stress you feel might just melt away into insignificance.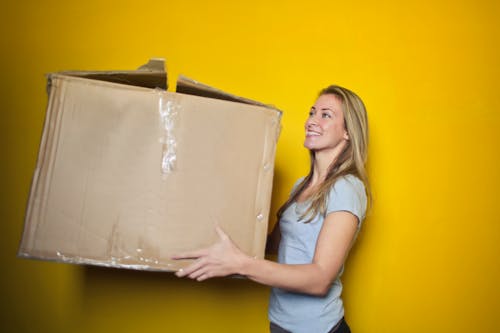 #2: Create a moving timeline

You don't have to complete every task on your to-do list right away! Plan ahead and prioritise the tasks you need to do. This way, you won't burn yourself out trying to get everything done, and you will have time in your day to do other things that aren't associated with moving. You are less likely to forget something too if you have had the forethought to plan ahead with a moving checklist.

#3: Ask for help

When you're in the process of moving, you will be looking for professional help for many of your tasks. From browsing sites such as www.mybekins.com/locations/pleasanton-ca-movers/ when looking for removal firms to looking for those cleaning services that will help you get your property ready for the sale, you will already have help in mind when planning your move.
But don't forget the assistance of your friends and neighbours too. With their assistance, you can cut out a lot of your stress. Ask them for help when you're packing boxes. Ask them to look after your pets and children on moving day. And ask them for moral support whenever stress threatens to defeat you. By doing so, you won't have to face the pressures of moving alone.
Now you can't always call on family and friends for help. Sometimes the best course of action is calling the professionals to come in and help especially for moves that cross different regions. For example, moving from London in the south to Kent can be challenging. Instead of making the trip alone, you can hire a Man and Van in Kent to help you load your belongings and take care of the long drive. While friends and family can help you declutter and pack, know when to ask for professional help.

#4: Practice self-care

Finally, make this a priority. You can beat stress by eating healthily, exercising regularly, and sleeping well, as you will have the energy to help you to cope. So, start each day the right way with a healthy breakfast and a short walk. Take breaks during the day to eat and exercise. And go to bed at a decent time, as you will be thankful for the rest the morning after when you're looking at your to-do list.
Moving home doesn't have to be so stressful, and remember, it's all a step closer towards the end goal.
(Visited 53 times, 1 visits today)