Like many people across the UK our family of four live in a three bedroom mid terrace 1930's build. And, like many other families this means that one of the family is lumbered with the box room. This honour usually goes to the last born, the smallest and the youngest. But they don't stay little forever.
Pre-kids this space would make the perfect office, storage area or walk in wardrobe and in the baby days this was perfect for a small nursery. Now however, as our cot bed has been converted to toddler bed, the next phase looming is somewhat trickier. How can we make this box room a fun and practical bedroom for a child?
We have a little bit of time to play with our ideas, and there is always the looming question of whether to go up into the loft, or perhaps get the kids in together (no chance of that happenning anytime soon with their polar opposite approaches to sleep). The little Mouse could probably even stay in her toddler bed until she's four or five. We both agree though, that by the time she starts school it'd be nice for her to have her own space to draw, write and play, like her sister.
Having searched around, I already have a few ideas about how we could make this smallest room in the house work better for us…
Under bed space
Oh my goodness, if you start to google childrens cabin beds you can get lost down a rabbit hole for hours. There are some ingenious ideas out there for optimising the space under the bed – not just to shove a box of tat, but to make a stunning play area or camp in itself. If storage space is limited, you could pick up a bed which allows drawers or wardrobes to sit underneath, or even a pull out desk for your child to use when needed.
Image source: www.roomtogrow.co.uk
Image source: www.ollieandleila.co.uk
Utilising height for storage
When it comes to optimising storage in a small room, think tall and skinny. Every child needs surfaces to display little knick knacks; lego toys, mementos and keepsakes so think outside the box of bedroom storage and go small footprint storage. You can pick up bookshelves like these in many lifestyle furniture stores and with any solid wood bookshelves, the more robust the better. Going for a good quality Oak unit like this means that once it's done it's day as a kids bedroom piece, you can use it in an office, living room or dining room afterwards so it isn't going to be a short term investment.
Image source: www.lifestylefurniture.co.uk
Another option for using every space available is to install shelving fixed to the wall. I really like the simplicity of a box shelf set and this too allows you to create personalised touches to the room – whether it's personalised trinkets, special teddies or plain and simply, books.
Image source: www.gltc.co.uk
Finishing touches
I'm a great believer of starting any room overhaul project with a theme. The rest just then seems to flow naturally, and with the power of the internet anything is possible. You can even find one amazing product and build the entire room around it. For example I have always loved these tree bookshelves and would love to build an enchanted woodland theme around it one day.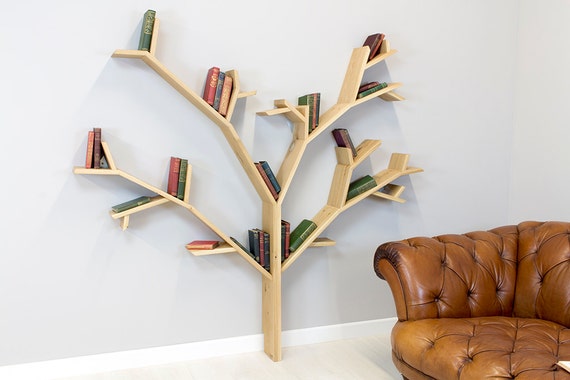 Photo source: www.etsy.com
If these prices are a little steep, and space just won't allow it, then wall stickers are a brilliant way to make a room magical in an instant. I have already used some in the nursery and with so many dreamy designs I can't wait to have an excuse to redecorate with a brand new set. Having discovered an incredible brand, Bambizi, you just cannot fall in love with their exquisite designs – definitely worth paying a little more for in my opinion. It's just so hard to choose which one!
Image source: www.bambizi.co.uk
Ultimately, when the time comes, we will need to pull out all the existing nursery furniture and start again, so anything we invest in needs to be practical, efficient, and for the long haul.
x MMT
Have you got a box room? How did you manage to fit in everything you need and make it liveable…I'd love to know!
Disclosure: This is a collaborative post
(Visited 330 times, 1 visits today)