*collaborative post
With the cost of living going up and up, many of us are tightening our belts when it comes to home improvements. Saving the money that would be spent on more pressing things or saving the money and creating family memories instead. But did you know that you don't have to spend a fortune to get that new room look?
When it comes to the kids bedrooms, it might seem like a mammoth task, but follow these simple, budget friendly updates and you'll not only save a bundle, but your kids will love the outcome too. Happy wallet and happy kids – what more could you want!?
The skirting boards
The skirting boards are there to try and protect the walls from scruff and scrapes and furniture damaging the walls, but because they're not at eye level they're more often than not, completely neglected. If the skirting boards in your kids rooms have seen better days, then why not give them a quick update? You can replace them completely – check out the skirtings r us website for a little inspiration – or if you fancy a little DIY, wash them, sand them down and repaint them. This can be done in a weekend and it'll really give the room an instant lift.
Keep it simple – clear the clutter
We all know that kids have a lot of stuff. From toys, to books, gadgets, arts and crafts things and of course junk. One of the simplest ways to make a real difference in your kids rooms is to go through every item and remove things that are no longer wanted, loved or played with. Clearing out a lot of junk will make the room de-cluttered and a lot roomier. If you can't see the carpet in their room, then try this one first.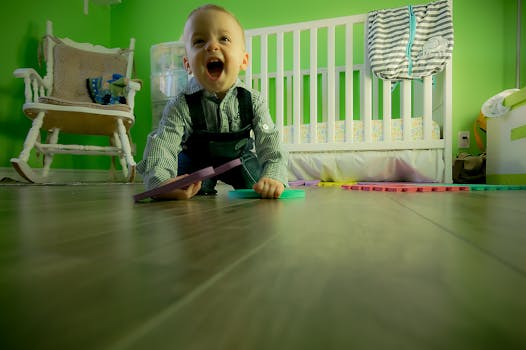 Rethink your storage options
Kids love collecting things, and as mentioned above have lots of stuff. With toys that have lots of little parts and dolls with numerous accessories and all other kinds of bits and bobs to contend with, introducing some new storage options will make the room look different and make it more accessible. Pound shop containers, baskets with fabric linings, plastic storage boxes that can be stacked – there are plenty of options. You can also make sure that it matches the colour scheme; speaking of colour schemes….
Choose a neutral colour and accessorise with others
Painting the kids room a new colour will give it an instant lift – it'll look like a new room. It's also pretty inexpensive and can be completed in a weekend. Kids change their minds pretty quickly, so paint the walls a nice, neutral shade and then if they have a favourite colour, choose to accessorise with that. Accent pillows, the light fixtures, the bedroom rug, the storage options etc. It's a nice way for them to bring out their personality and get involved in the whole process. It's a great family project!
(Visited 139 times, 1 visits today)