Do you buy your other half Christmas gifts? Understandably, many couples choose to forego Christmas presents for each other in a bid to focus the finances on all the other expenses at Christmas, but ever the big kids at heart, there has always been a small selection of gifts under the tree for Mum and Dad Muddling Through, to and from each other.
I suppose it's partly clinging on to the romance of the pre-kids days, a reminder that it's not ALL about the children, and a chance to see the other's face light up when they unwrap a special something on Christmas morning.
Of course it's not always like a scene from a movie… there have been a few dodgy moments over the years. The baggy crotch jeans I accidentally picked up by mistake, the mens lightweight dressing gown HE gave ME and then we agreed he should keep for himself (whilst I hit the sales with his credit card for a snuggly replacement), and the year I had to convince him that skinny leg jeans WERE the future. I was, of course, right on that one.
In all honesty, Christmas, like birthdays, has become an opportunity to kit Dad Muddling Through out in a fresh selection of menswear capsule wardrobe items. I have heard that some guys enjoy shopping, take pride in their designer shirt collection and will only wear the sharpest of pressed suits. Let's just say that in our house, that is the stuff of myth and legend. I'm sure he cannot understand how I can possibly ever need more clothes, whilst I can't believe he's still wearing the same old favourite washed grey T shirts over and over again.
So from work shirts to knitwear, denim to Chelsea boots, there has always been a silent expectation that there will be something new to wear on Christmas day and beyond, under the tree, on Christmas morning from me to him (and often vice versa, although admittedly with some heavy hints).
It's therefore always been hitting a balance between what I think he'd like, what I think would suit him, and what my dream man would wear. I guess that latter slowly transformed him from street wear to a more indie inspired look (sorry!) but at heart I know he'll always be a NIke Air Max guy and never a dirty Converse kind of dude.
So this year I hit the popular menswear website Jacamo to hunt down a couple of Christmas gifts that I think he'd look hot in, sorry, I mean, like.
I'll be honest here and say with him looking over my shoulder I asked for some guidance… whilst he was loving the relaxed sportswear hoodies I was urging him towards the checked jackets (no chance Sarah).
So, with his little face in mind, I later popped into my basket an Adidas ZNE Reversible hooded jacket (RRP £85.00)  and as a compromise, something a little different, a denim Grandad shirt (RRP £28.00). Something he hasn't got in his current wardrobe.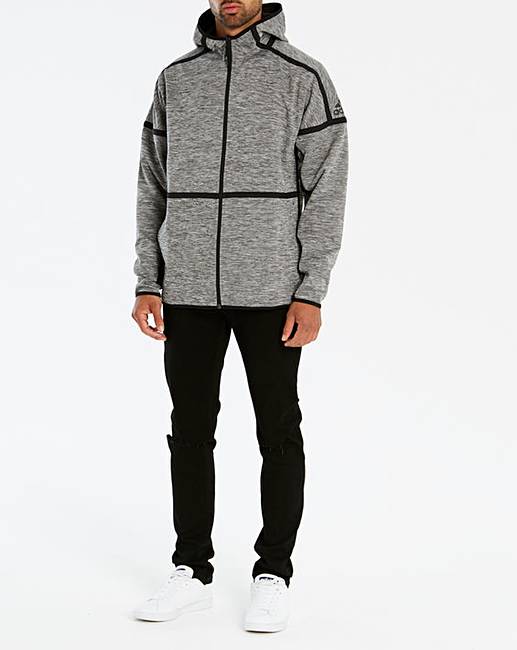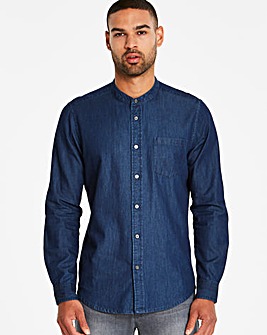 Now if you are familiar with Jacamo, you may already know that this is a website that caters for all shapes and sizes of men. With a size range from Small to 5XL there is something to fit all Dads Muddling Through and without any compromise on style. That said, it isn't a website just for the big guys – Dad Muddling Through is a size Small and we had no problem at all finding exactly what we wanted. It's great to see a site that celebrates all body shapes for guys too, who often don't just fit into a standard S, M, L. With so much focus on celebrating body diversity for women, it's time the guys got the same treatment. After all, in a world where we are constantly striving for equality, no one should be made to feel uncomfortable shopping for clothes, or feel limited to what they can wear to feel good, regardless of their gender.
So before you can say 'Has he been a good boy this year?', DMT's clobber arrived on my doorstep. Well packaged and exactly as described online, both the items were in perfect condition and look true to size (Small).
The Adidas hoodie is lightweight and has a reversible design – I know this will get worn to death at weekends, to football, travelling to the U.S. next Spring and even on the odd date night (when that ever happens aargh!). I guess it's not what I would have initially chosen without his nudge, but that's not always the right attitude towards gifting is it?! He will love it, and to be fair, even I have to agree it is really cool- I have no doubts I'll be pinching it every now and again (small hubby bonus). After all, I think he thought I had lost it last year when I emailed him a link to that leopard print faux fur coat…
The second choice will be a total surprise (well, assuming he isn't reading this) and something I think will look ace on him. The denim grandad shirt teamed with smart black jeans or maybe even the double denim look? The shirt is lightweight with a slim fit and although he hasn't worn this cut before, I think he'll be a convert. Remember the skinny jeans convo? #JustSaying.
And so, despite him knowing that there was a parcel from Jacamo, with Adidas hoodie shaped contents, much to his dismay, these goodies will be stashed away until a couple of weeks time, and he can put on his best surprised face on Christmas morning. I should know, I've been doing it for  years 😉
x MMT
Disclosure: This is a collaborative post.
(Visited 50 times, 1 visits today)