It's official, it's the last half term before the end of the school year, I've broken out a new bottle of sun cream, and yogurt has been replaced by ice cream as an after dinner standard. SUMMER has arrived. 
So whilst I have been pretty good at reigning in the shopping weakness in 2017, at the start of the new season there has to be a few new staples to be worn to death all summer long. It's the perfect excuse to warrant a #HideTheBags splurge…
SANDALS
Whether you're a stay at home Mum, a working Mum or in fact, not even a Mum at all – every woman needs a decent pair of sandals to take them through the summer months. Last year I picked up an amazing metallic pair of Clarks sandals from their outlet store and they were so perfect for every occasion – I literally lived in them. Nursery run, playdates, nights in the pub, blog conferences and holidays. I was pretty distraught when they literally fell off my feet in pieces, in September.
This did however leave me with the perfect excuse to find a replacement pair for this summer… I was so in love with the style and comfort of those 2016 babies that I've gone for another Metallic Clarks pair; Romantic Moon (£52). This time, in a textured gold leather, with a bit of a funky flatform sole, the super comfy soft suede flatbed will be seeing me through the summer of '17 in style.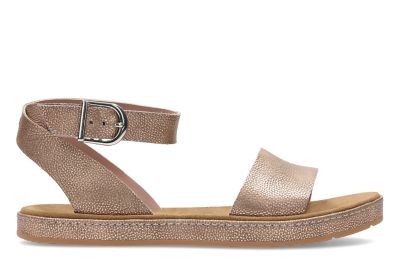 SWIMWEAR
This summer whilst we aren't holidaying abroad, we have a multitude of weekend mini breaks and UK based trips. Given that the British weather won't be guaranteed, and there will be plenty of good old British seaside time, I need a decent bit of swimwear that won't leave my Mum tum scaring off the seagulls. I'd perhaps brave a bikini on the continent, but not down on Broadstairs beach, jiggling past Punch and Judy to get a cuppa to warm my cockles.
In all honesty, in recent years I've avoided spending out and made do with a Primark or Sports Direct cozzie; It'll do fine for swimming lessons. But, I am starting to see that you get what you pay for, and when it comes to the small piece of material separating you from being clothed or naked in a public place, it's probably worth paying out a little more.
So this Summer I've got my hands on a tasty Joe Browns halter necked swimsuit (£36), with clever panelling that does the whole 'make you look slimmer' thing. It's got a beautiful botanical print which I'm a sucker for, and the cut and design is a really lovely retro style which will be perfect for those retro style British holidays.
DRESSES
Home or away, there is nothing better to throw on after a day in the sunshine than a Maxi dress. A blessing to women of all sizes, hiding a multitude of sins, these floaty, feminine numbers are so easy to wear and can be dressed up or down for any occasion. Barbeque, summer party, wedding reception, office drinks or restaurant – the Maxi dress has it covered.
I've chosen two totally different styles for this summer. A pink layered floral (£29); more of a casual day dress and a navy and Ivory bardot (£45) that is more of a statement piece, maybe for an evening out. Both will, of course go perfectly with the new sandals.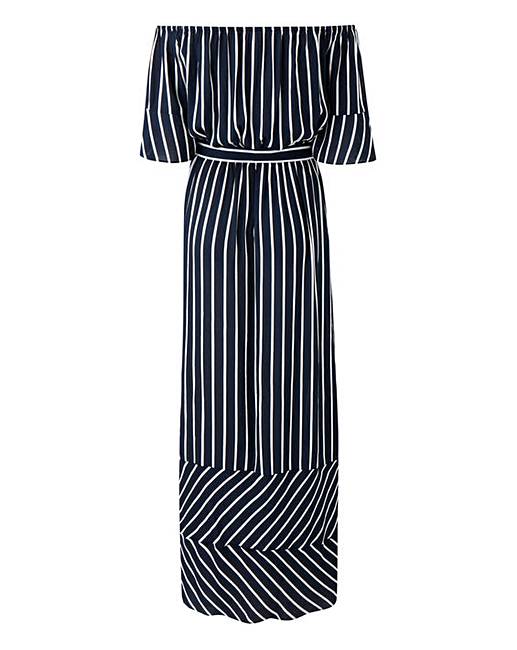 So summertime, let's do this! I'm all kitted out and raring to go.
x MMT
Disclosure: All of the items are available to purchase from www.JDWilliams.co.uk. I was gifted these items in exchange for an honest promotional article. All opinions are my own.
(Visited 95 times, 1 visits today)