It's all too easy to fall into the accidental purchases for the kids this time of year. The recent uptake on the Christmas jumper tradition is just too tempting with so many cute as hell designs in the shops. (Christmas jumper day is on 15th December this year!). It's even easier when the high street offers some bargains, perfect for carrying them through each and every party, lunch and family get together. And anyway, they grow so fast – so that's my excuse, right?
So anyway, I've been trawling the high street and supermarkets for my favourites, so here is my selection to save you the hard work…
Very clever Asda! This is one that serves as functional as it is lovely – how many days to go girls?!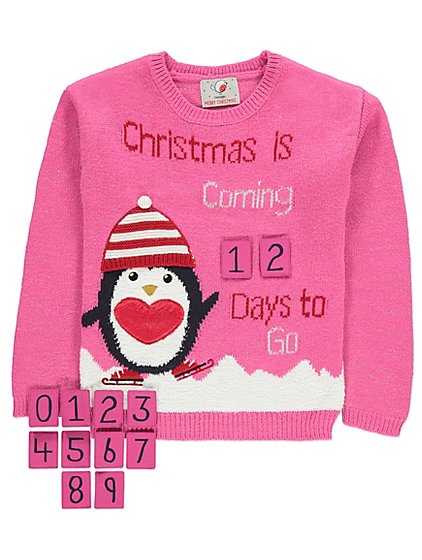 Okay, admittedly, this one is too small for my two big girls, but if I'd clapped eyes on this a few Christmases ago, I'd have been all over it. #LoveABabyDressedAsASnowman
To me, you can't beat a classic fairisle style jumper. Best worn on a freezing day with the central heating off. It's a proper Christmas jumper if ever I saw one.
Another beaut from Tu at Sainsburys, the girls love Gingerbread men all year round, but this festive offering is really the icing on the…gingerbread house…
I refer back to my fairisle comment, and can't help but wonder if a sweatshirt may be a more practical option for kids partying hard at Christmas! Sugar highs, running around halls and overcrowded living rooms may call for a less overheating option…so I bring you the unicorn Christmas sweatshirt…
Love the colour of this one, and clearly have a thing for cute penguins who feature in many of my favourites!
Oh the fluff, the penguin…what's not to love?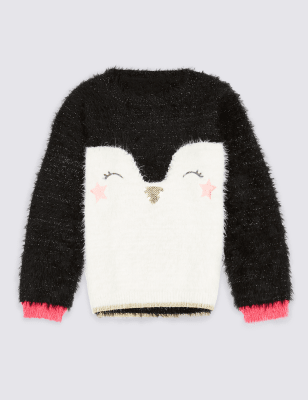 Given the fact I have this in an adult size, it had to make my shortlist… SANTAS COMING!
Nope, it's never too late to stop using that threat! Unless your mind thinks like my youngest… "What would santa say if he saw you doing that?". "Ho ho ho?".
Errr…
A super cool twist on a modern day classic… one for the dino loving kids in the fam!
For what it's worth, my fave collection was there at H&M – offering funny, clever and quirky designs at the most reasonable prices. So (paper crown) hats off the the guys at H&M – I'm on my way!
x MMT
(Visited 626 times, 1 visits today)