It's been a while since I blogged my latest shopping haul, and as is typical after an influx of vouchers for my birthday, the beginning of June is often synonymous with the start of Summer with a big seasonal spend up.
This year was no different, despite promising myself that I would put any birthday money towards lighting for the new loft extension, one morning at Bluewater was just too much temptation to handle and I justified to myself that with a summer holiday on the horizon, and vouchers burning a hole in my pocket, that most of H and M was just begging me to take it home.
So anyway, it seemed on leaving that there was a bit of a theme emerging, and so, Hide The Bags, Stripes and Swimwear, here we are.
The Bikini £12.99 / £8.99 H & M
Anyone who reads my blog may know I have always been obsessed with botanical prints on bedding, fabrics and clothes. And so, as I get excited about our first foreign holiday with friends in a long time, this floral bikini caught my eye. With a multifunction to be strapless or with some extra rigging, and a decent bit of structure to hold my wobbly bits in, this ticked a lot of boxes for me.
The bathing suit £24.99 H & M
Despite knowing I'll surely be putting it all out there on holiday this year, this stripy bathing suit caught my eye and I chucked it in the 'try on' pile, just to see. In actual fact, the cut of the design is SO flattering, that I just couldn't not buy it. Swimming costumes are pretty on trend right now (if Love Island is anything to go by), and I'm sure as a Mum there might be visits to splash parks, running around after a toddler, or even swimming pool visits here in the UK long after our holiday that I'll love wearing this one piece to.
The sensible shorts £17.99 H & M
There has been something I have noticed lacking in my summer wardrobe of late, and it's a pair of decent shorts for the school run. Something to pair up with a tucked in tee or a pretty cami, and one that doesn't show half my arse or cover far too much leg up. A pair of shorts that are school run friendly, work well with my new shirt and shorts obsession and will work hard in my wardrobe. I picked up a 12 in a toddler induced mad dash but the baggy look didn't work, and the 10 were much more closely fitted to my sparrow legs. A quick exchange (and some additional buys later) and we have the perfect summer shorts.
The stripy shorts £9.99 H & M
Whilst on my quest for the perfect shorts, the range of lightweight summer shorts in H&M caught my eye. At a bargain price under a tenner, the stripy shorts (with the all important pockets) were meant to be mine. Perfectly paired with my birthday present to myself Essex Mama Girl Gang Tee, and surely to be worn all summer long.
The stripy shirt £17.99 H&M
So, the shorts and shirt combo I mentioned is my latest love. As seen by on a far younger and trendier person than me, but a look that I felt I could surely pull off on both the playground and park. In an attempt to go easy on the sun on skin this year I'm trying to make a conscious effort to cover up a little more, something this summer look is perfect for. This candy stripe cotton shirt is both cool and breezy, and looks fabulous tucked in to those blue shorts.
The sweetener H & M Menswear
Now having declared my generous contribution to the build in the form of my birthday money this year, I felt Dad Muddling Through may need a little sweetener to accept the additional items requiring additional storage in our new bedroom… so a quick visit to the mens section and a few new summer tees for him made all the difference. Need I say it, they featured botanical prints and stripes. Obvs.
The holiday hat £19.50 M&S
Nothing says holiday to me like a new hat – often crushed after a year or two of good use and borrowed far too often by my blonde blue eyed hubby. Having been hat shopping in M&S for my Dads gift this year, I took quite a liking to the trilbys in the mens section myself. Having taken a peek in the womenswer section, I by far preferred the practical, sturdy and plain offerings for the lads to the sparkly sweet ladies versions. So, Olly Murs eat your heart out, I'll be rocking out with the M&S Grandads on the beach this summer!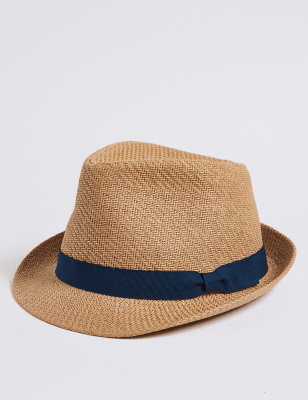 Earrings Missguided / H & M Various
Over the years my earring collection has gone AWOL and I've always loved to finish an outfit off with some dress jewelry. A big fan of the bigger the hoop the bigger the ho earrings, and something with a splash of colour, I was in need of a splurge on some new accessories.
So that's me all set for the summer of 2018…just keep me away from Primark…I've seen the images on insta and the pull is strong!
x MMT
(Visited 186 times, 1 visits today)