All cards on the table here guys. I don't know what it is; the change in seasons, the leap in development of the kids, or even just because I've been doing a lot of soul searching lately, but over the past few weeks, I've been feeling a bit low.
And I'm telling you this, because it's okay to admit it. I have talked about it with a couple of close friends, family, and of course Dad Muddling Through. I've analysed why I've been feeling so prickly and tearful, a bit sorry for myself and tried desperately to find the answers of how to 'fix' the way I've been feeling. Which, for the record, is a bit lonely, undervalued and, I suppose, lost.
In truth, I don't think there are really any answers. Having thrown myself into my kids for the past six years, neglecting some of my own relationships outside these four walls, and being without a second dimension of 'a workplace' for four years, I've come to realise that I am finding life as a stay at home Mum a bit lonely. Yes I have good weeks, and yes I realise I am bloody lucky to live in a pretty much idyllic existence but sometimes that just doesn't equate to skipping along the school run.  As a sociable person, and one who has always been a high achiever academically and professionally,  I guess I just miss the the outside world, a world that doesn't revolve around what's for tea and whether the tumble drier has finished.
Talking has helped. Reading has helped. Writing it down has helped. I've acknowledged that in the next 12 months, until the girls are both at school, I could explore the options to get me out and possibly back in a part time role again. Or even, before then if I really wanted to (which I don't, and deciding that has helped me embrace the positives too). I've made plans to keep myself busy – for the girls, for the family, but most of all, for me. Ultimately, I know that I will be fine, but that in order for that to happen I need to be kind to myself, and keep an eye on those emotions. The most important thing is being honest with myself, and with those closest to me, that I have been struggling a little. Because if I can't do that, how can I expect to even begin to put things right.
Amidst this strange old head space I was contacted by Funky Pigeon who have just launched a brand new set of wellness cards, gifts and products in collaboration with the mental health charity Mind. They wondered if I'd be interested in checking out some of the new range, and to share it with you.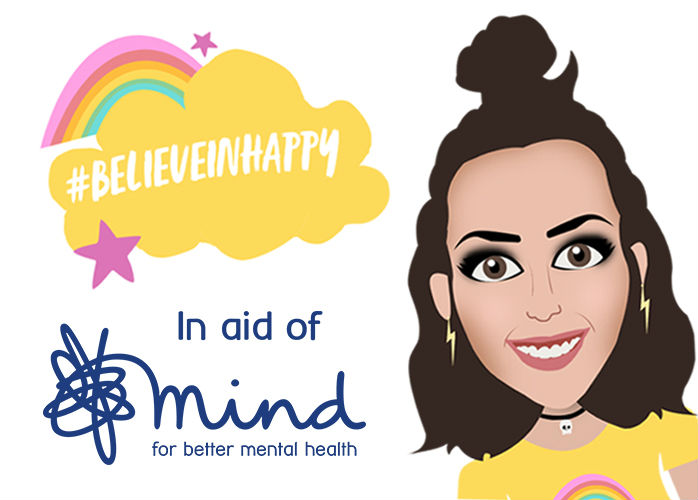 Forever one to endorse the importance of being open and talking about mental health, I didn't hesitate. And so, a few days later, after a particularly tough 48 hours a parcel arrived with my name on it.
As I unwrapped the Happy Bag inside the parcel, I felt quite emotional. It honestly seemed as though the universe was sending me a sign. This bag has been designed by one of the team at Funky Pigeon, Amy Steele, who has herself battled and survived post natal depression, involving hospitalisation in a mother and baby unit. Amy is a survivor, a positive story of hope, and someone who through her creations at Funky Pigeon is able to create something marvellous to touch other peoples lives, and help them see a way through the darkness.
The happy bag I received contained five simple items which had been put together with a tremendous amount of thought (and a rather lovely canvas tote bag too, so that's a bonus sixth item right?).
HAPPY Book by Fearne Cotton.
I've always loved a positive read, and my bedside table is piled high with self help books from all sorts of inspirational people. This particular one by the nations much loved Fearne has been on my Amazon wish list for ages, and now I have a copy of my own I literally cannot wait to read myself happier. Reading in itself is for me an exercise in mindfullness – a place to escape the present and focus in another place for a while, a moment of deserved indulgence and me time, a place to relax and unwind, and learn something new.
Pukka Herbs 7 day night time kit
Now this again is almost too spooky. Dad Muddling Through and I are huge drinkers of Pukka Night time, and this kit came at the right moment of reaching the end of the box. It also contains night time supplements, which are new for me to try, and I'm all for optimising the ability to recuperate mentally with a truly decent nights sleep.
The Happy Journal
A product of #BelieveInHappy, Funky Pigeon's collab with Mind, this blank journal serves a brilliant purpose. A place to write down thoughts, fears, as well as the things you are grateful for, plans for the future and things to make you smile. I have journaled many significant moments in my life – my wedding plans from engagement right through to honeymoon, when we lost our second daughter I kept a daily journal documenting every last detail of the process and how I felt, and of course, this very blog is essentially a shared journal too. I have been after a gratitude diary for a while and that's exactly what I will use mine for – a place to jot down three positive affirmations each day to help me focus on all the good in my life.
Chocolate
Because…does there need to be a because?!?! And this isn't just any chocolate, it's pink and yellow and literally in the shapes of smiles and rainbows. Enough said.
Positive Affirmation Card
Possibly my favourite of all the contents of the bag was a beautiful message from Amy herself. A fabulous yellow card, emblazoned with 'There is a rainbow waiting just behind those dark clouds I promise'.
It filled me with emotion and as I read on, the message within the card made me want to find Amy and give her a hug. This is one passage worth reading…
I just KNOW so many people would benefit from a delivery like this, just as I did, for whatever reason they don't feel too spesh right now. Perhaps they are recovering from a pretty pants time, maybe they have suffered for a long period with mental health issues, or perhaps, like me, they have just found themselves in a bit of a crossroads and are trying to work it all out in their own head.
One thing I know is that I am so glad I asked for a second bag for one of my lovely readers…I wish I had a hundred of these bags so you could all have one, as well as a few people in my own real life circles. I have a sneaky suspicion a few of these bags may make it to under the Christmas tree this Christmas, and I'm sure you can all imagine at least one person who this is the perfect gift for.
Perhaps you.
So with that, a huge thank you to Funky Pigeon, to Mind, and to Amy for touching me this week, and I wish this campaign and product line the success it truly deserves. You can find the mindfulness and wellness line at www.funkypigeon.com in the personalised gifts section; 30% of all proceeds will be donated to Mind.
Plus of course, as is reinforced on all the #BelieveInHappy products, if you need some extra support or someone to talk to, see your GP or contact Mind directly on 0300 123 393 or text 86463.
x MMT
GIVEAWAY
In order to win a Happy Bag worth £25 containing all of the above,
enter via the rafflecopter widget on my
Disclosure: I was gifted The Happy Bag for the purpose of this post
(Visited 302 times, 1 visits today)