Regular readers of my blog will know that back in the summer I embarked on a bit of a surprise journey; a twist in the road that nobody (not least me) saw coming. I made a decision to try life without alcohol for a while, to see what it would be like, to give my body a break and to ultimately, start taking better care of my 37 year old self.
Having inhaled some incredible and inspiring books,  I sailed through the 100 days I had set as my initial target, I'm happy and kind of shocked myself to report I'm going strong and booze free. There have been some wobbles; it hasn't been entirely a bed of roses. I've had to find new ways to relax, to mark the weekend landing, find my sober dancing feet and break some pretty ground in habits. The clarity of it all has made me face up to some pretty big life decisions about life, career and the future, and really get to the bottom of the things which make me happy, or otherwise.
That said, I feel a little bit like I've discovered a new way of life that I hadn't imagined could possibly exist. A place where you can still have ALL of the fun with NONE of the regret. A friend asked me some weeks back to sum up how I felt about giving up booze and one word immediately sprung to mind; Safe. Sobriety turns out to be like a big fluffy blanket wrapped around me, making me feel snug and warm, and it's somewhere I'm pretty sure I want to stay.
Sure there have been less unpredictable, crazy nights out, but I realise now that the crazy unpredictability was actually becoming more scary than fun; it was in fact putting me off going out as a feeling of dread and anxiety bubbled in the pit of my stomach. This was often coupled with a tendency to guzzle those drinks down me to see that feeling off. I can see now that my tolerance to alcohol was pretty dismal (a bad combination if ever there was one) and despite believing I could keep up with everyone else, I really could not drink anyone under the table (I was more likely to end up under the table).  I haven't given up socialising, or partying; I'm not afraid of going to any social event without the prop of a glass of prosecco or eight and actually, sometimes I'm more than happy to pass altogether if that's what I feel like doing. I'm feeling more comfortable in my own skin than I ever have been, and the flashbacks of stumbling out of a cab and trying to get the key in the lock actually makes me shudder. I don't want to be there again. I really don't. It may have been once or twice a year  that I went too far, but that's once or twice a year too often.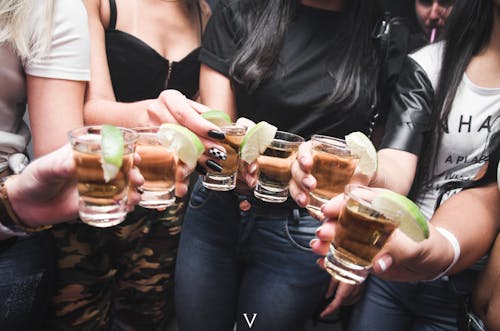 And so, as Dad Muddling Through has completed his project and decided to continue drinking with a new found respect for actual moderation, I've decided that moderation and I can never be friends. It's also due to my realisation that I don't actually need to drink to have fun. Yes, I have become that person; the one that I used to look on with an equal mix of curiosity, horror and admiration.
My puzzled friends and family have watched on in disbelief as I answer the question 'still not drinking?' with a big fat 'Yes', and as plenty of people have suggested, Christmas seems to be causing great concern to all. I mean how can anyone not drink at Christmas, especially ME? After all, Christmas and alcohol go hand in hand like Gin & Tonic, or should that be Soda and lime? As reinforced by every single supermarket advert, magazine and festive imagery anywhere. Groan.
Admittedly, Christmas traditions for me previously could have been summarised by a hour on hour drinks menu; Baileys with opening presents, Bucks fizz mid morning, Vodka and Russian whilst helping Mum with dinner, Bubbles with the turkey, liqueurs with coffee and a bloody Mary to finish off the day. So can I really have a Merry Christmas, without getting Merry?
Over the next few weeks I'll be finding out exactly that as I arm myself with Seedlip, Heineken 0%, Nosecco, Mulled fruit drinks, Ginger Beer and Tassimo Baileys flavour coffee (alcohol free!). I confess that mixing up the Christmas cake this week it occurred to me that a drink in hand would have been the order of the day, but it was a momentary thought that the realisation it was ten in the morning soon fixed.
My very first big night out out was also conquered this December – as I sparkled all the way to the ball and, spurred on by my inability to remember the selfies I took with the mince pies at 9pm last year, I was on that dance floor all night, collapsing into bed at 1am but with tired feet, make up removed and an appreciation for the soft covers. I'm realising more and more as time rolls by that I can still be me without the false confidence boost – in fact, I am more me than ever.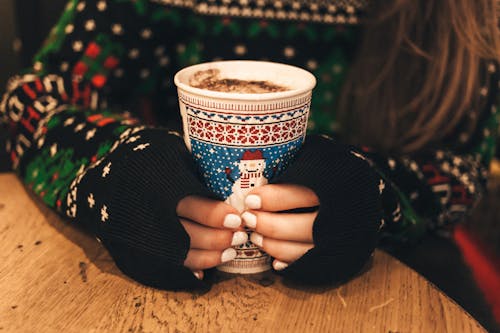 Since August I have celebrated birthdays and anniversaries, I've been camping, I've gone out drinking with the school Mums, I've been to a funeral, an all you can drink prosecco night, I've done lunch, girly weekends, a blogging event, and in a matter of weeks, I'll be able to add to that list Christmas. And no, I'm (still) not pregnant or planning to be.
I have no doubts that the magic of Christmas will carry me through the next few weeks, and remind me that without a Baileys in hand, there is still plenty to embrace – the joy in the kids faces, the time spent making memories with family, the immense food and the time putting aside all the usual boring things on the to do list as we snuggle up watching Christmas classics in our PJs, one hand in a tub of celebrations. In fact, I can't think of any better time to be focused on the present, and I'm not talking the ones under the tree.
x MMT
(Visited 252 times, 1 visits today)