*contributed collaborative post
It's been a busy twelve months. The Yuletide season is over, and before you know it, it will be spring again. A new calendar may be the perfect motivation you need to finally start that redecorating project you've been delaying for months. But where do you start?
For many homeowners, budget is square one. Many projects are stopped dead on their tracks once the quote is determined. If money is what's keeping you from rolling your sleeves and getting to work, it's time to reconsider. Here are awesome home-decor hacks that prove you don't need to splurge to own a stylish, beautiful home.
Set Up a Faux Fireplace
Just because your home can't host a working fireplace doesn't mean you can't have one. A faux fireplace is a great project that instantly lends character and personality to an otherwise plain and ordinary living room. If you can't hire a professional, build one on your own.
You can use a second-hand mantelpiece and an assortment of decorative cuts from your local hardware, and all you have to do is to assemble them together. You can place your television set above the setup or a mirror, whichever you like. While you can't light up firewood, you can use candles instead.
In her blog, money nerd Whitney Hansen transformed her unembellished, apartment-style entertainment set into a stunning electric fireplace in just one weekend.
There are plenty of design ideas you can draw inspiration from online. You can go vintage, classy, modern, rustic, or full-mode creative with your own design.
Create Your Own Reading Nook
Instead of piling up your books in the bedroom, display them in a small part of your living room. Assemble a lounge chair, a lamp, and perhaps a small accent table to complete the ensemble. Put your readings on a high shelf, preferably prioritizing your hardbound copies for display. Thicker books such as kids' board books can be placed on the lower shelf for easier access.
According to current research involving 160,000 adults from 31 countries, teens who grew up in a home with books have literacy skills equivalent to those of university graduates who didn't read.
Having a home library is not only aesthetic but also beneficial for cultivating your kids' lifelong love for learning.
Use Plants
Plants have a way of breathing life into a bland space. If you want to make your home instantly fresh, consider having an indoor garden. Place planters in corners, on top of a cabinet, the bathroom ledge, by the window, the stairwell corner, even on top of the washing machine, or hanging by a mirror.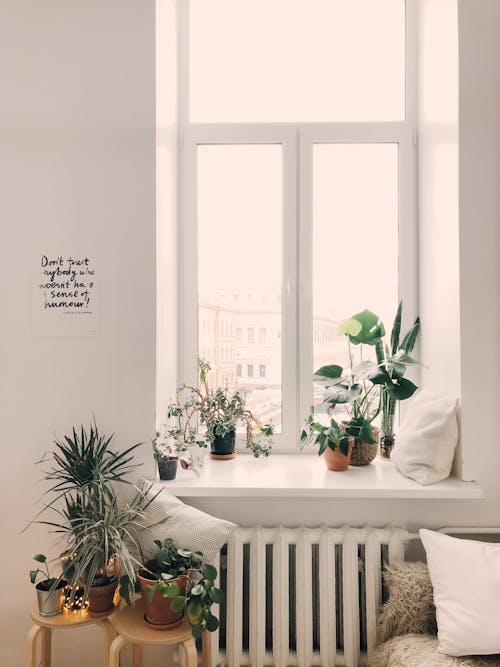 Diversify your setups. You can use large planters or small pots depending on where you choose to place them. You don't have to purchase new ones. Tinker with your storage, and see if you can repurpose empty containers, teapots, coffee mugs, and oil tins.
Worried about not having a green thumb? Here's a list of indoor plant species that are beautiful and super easy to grow.
Make Your Own Cushions
Part of the reason DIY has become so popular in the past few years is that it gives homeowners a way around the expensive items in the home center. Even a piece as simple as a decorative cushion can easily cost a fortune. Fortunately, they're very easy to make.
Cozy up your living room with a custom-made throw pillow that doesn't even require you to lift a needle to make. Purchase your own fabric design, and simply use fabric glue to put your cushion together. Who knows, you may even enjoy it. In which case, you can start your own craft store and sell your designs online for extra income on the side.
Create Your Own Custom Wall Designs
Don't know what to do with those bare walls? Looking for a unique way to redesign your wall setup? Use your own artwork or, rather, your kids'.
This is a fun project to make with your little ones. These eye-catching decorative pieces make for interesting talking points during home gatherings and family dinners.
Another great idea is a custom wall calendar. Turn your memories into high-quality prints that bring you joy month after month. If you want something more personal and permanent, simply have your photos sized up and framed.
Spray Photo Frames
You don't need expensive gilded frames to add a wow factor to your walls. Pick up cheap photo frames from charity shops or the dollar store and use spray paint to primp their look. Neon colors are a trend, but metallic frames make good accents too, especially if you're dealing with small spaces.
Hide Your Cables
Tangled router and appliance cables are an unsightly mess that can sabotage your awesome living room setup. Do away with this common home clutter by using a small wooden cable box or a hollowed-out book to organize and hide the knotty disorder.
Disguise What You Can't Replace
Chocolate stains on sofa seats and discoloration in your carpet can be expensive to remedy. If you still don't have to budget to buy a replacement, go for a disguise. Use a stylish fabric to cover your sofa, or lay over a rug to the splattered part of your carpet to hide the damage. Not only will it do the job; it will also add aesthetic value to your whole setup.
Create Your Own Statement Decors Using Only Paint
You'll be surprised what little touching up can do to an old decorative item. Here's an idea: look for old charity-shop items, and paint them entirely with your own color choice.
White generally produces good results, but depending on your chosen theme, you can explore different colors to match your home design. Prop them up on a shelf or on top of your entry table, and you have an instant statement decor that totally stands out.
Spruce Up a Vase with Pennies
This is an awesome idea you'd be glad to discover. Using old copper coins, embellish any decorative vase you can salvage from your own old decor collection or buy from the crafting store.
For this project, you only need black spray paint to color the base, your vase and pennies, glue and a glue gun, and perhaps a good supply of patience. The result is a stunning masterpiece you'd be happy to show off.
Here's a step-by-step guide from Bob Vila.
Conclusion
You don't need to raid the bank to get the home of your dreams. Some thrift-store hacks and a little stretch of the imagination can go a long way in helping you beautify your personal space without spending a fortune. Explore these tips, and watch your home transform.
(Visited 79 times, 1 visits today)