Back in my days in the corporate environment, plugging away at a desk for hours at a time, all it took was a slight grumble of neck ache or an iffy twinge in your wrist and you'd have health and safety over for a DSE assessment before you could say Repetitive Strain Injury.
Like most businesses, as a responsible employer, my employer took Display Screen Equipment Assessments very seriously, and it wasn't uncommon for many people to have specialised adjustable chairs, wrist supports, foot stools or adjusted height desks, to ensure their work set up was not detrimental to their health. Upper Limb Disorders aren't life critical, but if you can avoid them, why wouldn't you?
And yet, even after years completing and taking part in DSE assessments in the workplace, as I continue to work from home, I have realised that my level of attention to my home office set up has probably been less than kind to my body.
Years spent typing on a laptop in front of the TV, or staring down at a phone at an uncomfortable 45º angle is taking it's toll. With a soft deep sofa, feet not reaching the floor, the tension in my back as I type was uncomfortable, yet I convinced myself I was happier in the cosy lounge than alone in the silence of our office or kitchen table.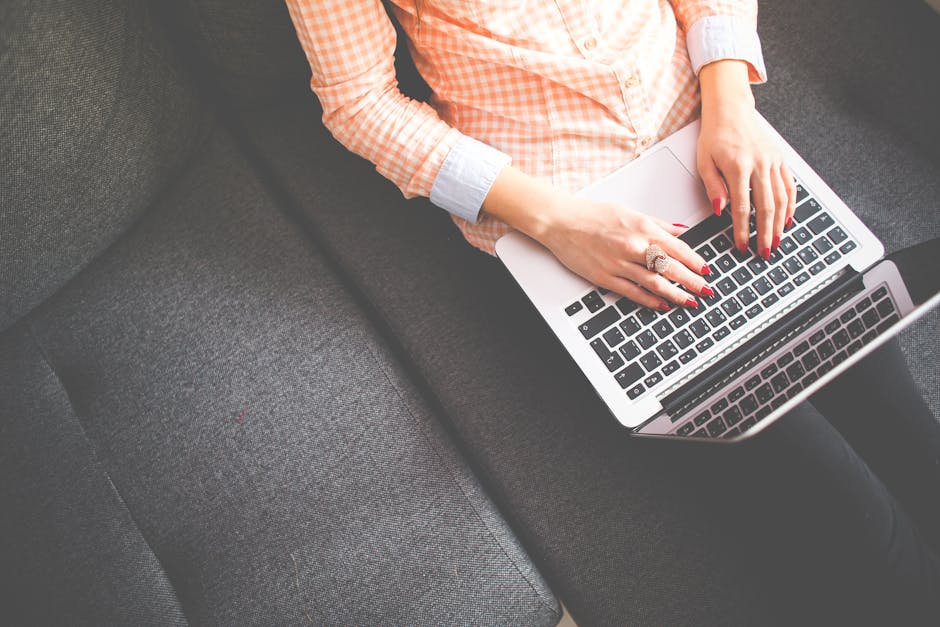 Sometimes though, when spending hours straight reading blog after blog for linky hosting duties, the discomfort did force me off to find somewhere more practical to base myself. At the dining table, or the kitchen island, with a proper chair and backrest.
This year however, I'm facing facts. No more neck aches and lower back strains due to time spent hunched over a laptop whilst tapping away. If working at home is something I'm going to be doing mid to long term, then I need to be kinder to myself. So I have revisited some Display Screen Equipment Guidance and put some steps in place.
We have always had a desk space, and I'm making a concerted effort to work there – not the sofa, the kitchen or the table.
Instead of typing on my laptop keyboard, I have dug out the cordless keyboard and mouse and set them up with my laptop, which can still be used as portable when needed. (Wow what an amazing difference that made!). Having a keyboard on a desk provides support to wrists and encourage a kinder typing angle on your joints.
Instead of looking down at the desk towards the screen, I have rooted around and used an old Jamie Oliver oak food serving 'device' to elevate my laptop to eye level. This only worked when combining with the mouse and keyboard, but I'm already noticing the difference to my neck.
At the moment, I'm using a straight back dining chair at the desk, which is a far greater support than the sofa. Using a V shaped cushion it supports the curvature of my back whilst encouraging me to sit upright. Next step will be a decent office chair once the desk is relocated to the new office, post renovation. (More on that here). Make sure you're able to push the chair in to a position you feel comfortable – watch out for arm supports that block your way. My current seat allows me to put both feet comfortably on the floor, which is perfect.
As well as posture, it's important to consider the lighting on your screen – by placing the desk in the window this removes any glare whilst giving me a bonus dose of vitamin D. The windows are covered by drapes removing any glare too.
I'm making sure I take regular breaks from the screen. Perfect excuse to grab a cuppa, go for a walk, and come back later.
No one is going to remind me to take an eye test any more, so it's something I need to take into my own hands and intend to do so with an optician in 2018.
Doing these simple things has already made such a noticeable difference, I'm kind of kicking myself I didn't do it sooner.
If you need any help on checking your DSE set up, there are loads of good resources on line, and even free downloadable checklists. So what are you waiting for…
x MMT
(Visited 69 times, 1 visits today)